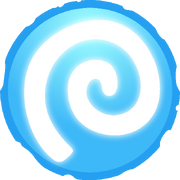 Air is an elemental class introduced in the Skylanders series.
Abilities
Skylanders who are associated with the element of Air manipulate the force of wind and storms to their advantage against their foes. They are strong against Earth Skylanders, but are weak against Fire characters in the Battle Arena. The color of this element is light blue. All Air skylanders (except Lightning Rod) have upgrades involving a third ability to fly. One Air Skylander, Whirlwind, is capable of destroying Purple Tzo Crystals with one of her normal attacks but only in Spyro's Adventure as that capability is disabled in Giants.
When opening an Air Gate, the Air skylander uses a small tornado that acts as a teleporter.
Air-based Skylanders stand on a pedestal made of clouds when they're in their toy form. This excludes Lightning Rod, as the cloud pedestal is part of him.
Air Elemental Characters
Skylanders
Gallery
Trivia
In Skylanders: Spyro's Adventure, Air-based Skylanders are one of the three elemental characters who do not build a bridge when opening their elemental gates, the others being Water and Fire. Instead, they teleport through a swirling vortex of wind.
None of the Air Skylanders have any appearance or spoken role in the trailers and commercials for Skylanders: Spyro's Adventure.
In Skylanders: Giants, the music theme from Stormy Stronghold plays in the Air elemental gates.
Lightning Rod is currently the only Air Skylander that does not stand on the base, instead the clouds are his lower half.
All Air Skylanders except Jet-Vac are able to go over water (Lightning Rod however couldn't on the Xbox 360 version of Spyro's Adventure).
Locations
Hubs
Ruins (Console) - Sanctuary (3DS)
Console Chapters
Shattered Island - Perilous Pastures - Sky Schooner Docks - Stormy Stronghold - Oilspill Island
- Dark Water Cove - Leviathan Lagoon - Crystal Eye Castle - Stonetown - Treetop Terrace
- Falling Forest - Troll Warehouse - Goo Factory - Battlefield - Crawling Catacombs - Cadaverous Crypt -
Creepy Citadel - Molekin Mine - Lava Lakes Railway - Quicksilver Vault - Arkeyan Armory - Lair of Kaos
Console Battle Arenas
Cyclops Square - Mushroom Grove - Aqueduct - Troll Factory


Pirate Grotto -

The Necropolis -

Icicle Isle -

Cube Dungeon -

Volcanic Vault
3DS Realms
Towersight Fields - The Proving Grounds - Flooded Viaducts - Radiant Fountain - Dreamgardens
- Ashburrow - Magma Bank Island - Cinderstream Pass - Luminous Quarry - Lava Flow Grotto - Snowblind Hills -
Frostsedge - Glacial Slopes - Icelight - Aurora Peak - Leaflook Village - Breakmarsh - Daystar Temple - Treetop Circle - Waterwalk Way - Sunblight Wood - Thundersquall - Whipwind Mountains - Stormseye - Galecrack Castle
- Dark Mirror
Adventure Pack Chapters


Pirate Seas -

Darklight Crypt -

Empire of Ice -

Dragon's Peak