"Ye beat me once, ye hornswoggle, but now ye toughest challenge lies dead ahead. If ye want the fair lassie back... ye'll need to beat my POOP DECK!"
    —Captain Dreadbeard
Captain Dreadbeard is the seadog captain of the pirates who have taken over Pirate Seas in the console versions of Skylanders: Spyro's Adventure. He is known as the most villainous and scurviest of all the pirate buccaneers of Skylands, but his one and only weakness is his love for pirate card games.
Story
Skylanders: Spyro's Adventure
Captain Dreadbeard took over Plunder Island to seek out the town's treasure, his crew taking the residents prisoner once they lost their card games in which the pirates cheat. After the Skylander arrived and beat Dreadbeard's crew (Fangs, Bandit, Chance, Woof and Daggerts) in their card games, the Captain himself challenged the Skylander to his card game and claimed that he will leave Plunder Island if he lost.
The Skylanders won the card game, and Captain Dreadbeard fled onto his ship, but revealed that he has captured Jess LeGrand along with the town's treasure he stole. The Captain fled back to his island with Jess held captive, but the Skylanders gave chase, destroying his island's defenses, and challenging Dreadbeard once again for Jess' freedom. The Skylanders succeeded, winning Captain Dreadbeard's respect, and the evil seadog vowed that they haven't heard the last of him before jumping into the sea to escape.
Skylanders: Giants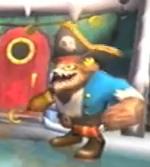 Captain Dreadbeard reappeared in Skylanders: Giants. He and his seadog pirates had taken over Cutthroat Carnival and claimed it as their own hideout. Dreadbeard is the top Skystones player on the carnival, but he still plays dirty. After being defeated by the Skylander, Dreadbeard stowed away on the Dread-Yacht and offered the Skylander rematches of their Skystones game at any time.
Trivia
In Spyro's Adventure, the fact that in he vowed to return could mean Toys for Bob was looking ahead, or the idea of him coming back was because of that vow.
Flynn apparently owes him five gold pieces.
Locations
Hubs
Ruins (Console) - Sanctuary (3DS)
Console Chapters
Shattered Island - Perilous Pastures - Sky Schooner Docks - Stormy Stronghold - Oilspill Island
- Dark Water Cove - Leviathan Lagoon - Crystal Eye Castle - Stonetown - Treetop Terrace
- Falling Forest - Troll Warehouse - Goo Factory - Battlefield - Crawling Catacombs - Cadaverous Crypt -
Creepy Citadel - Molekin Mine - Lava Lakes Railway - Quicksilver Vault - Arkeyan Armory - Lair of Kaos
Console Battle Arenas
Cyclops Square - Mushroom Grove - Aqueduct - Troll Factory


Pirate Grotto -

The Necropolis -

Icicle Isle -

Cube Dungeon -

Volcanic Vault
3DS Realms
Towersight Fields - The Proving Grounds - Flooded Viaducts - Radiant Fountain - Dreamgardens
- Ashburrow - Magma Bank Island - Cinderstream Pass - Luminous Quarry - Lava Flow Grotto - Snowblind Hills -
Frostsedge - Glacial Slopes - Icelight - Aurora Peak - Leaflook Village - Breakmarsh - Daystar Temple - Treetop Circle - Waterwalk Way - Sunblight Wood - Thundersquall - Whipwind Mountains - Stormseye - Galecrack Castle
- Dark Mirror
Adventure Pack Chapters


Pirate Seas -

Darklight Crypt -

Empire of Ice -

Dragon's Peak