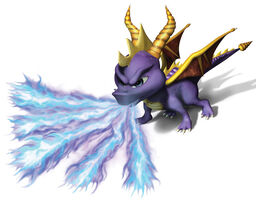 Electricity is one of Spyro's many different Elements he has the ability to command. This ability was first seen in the game, Spyro: Enter the Dragonfly, given to him by the Dragon Spirit to help save the missing Dragonflies. It makes a reappearance in Spyro 2: Season of Flame, and in A Hero's Tail, unlocked after defeating Gnasty Gnorc.
In A Hero's Tail, electricity powers up machines that are used to help Spyro move across large gaps or raise up to large heights. The electricity powers are also slightly more powerful than the fire breath but the electricity powers take longer to defeat enemies than the fire breath. Electric Breath can be also used to defeat certain types of robots such as Haywire Robots in Dark Mine.
Main article: Electricity (The Legend of Spyro)
Electricity is one of the four main elements Spyro wields in The Legend of Spyro series.
In Skylanders: Spyro's Adventure, Electricity is used by several characters who have attacks that utilize it.
Gallery
Locations
Hubs
Ruins (Console) - Sanctuary (3DS)
Console Chapters
Shattered Island - Perilous Pastures - Sky Schooner Docks - Stormy Stronghold - Oilspill Island
- Dark Water Cove - Leviathan Lagoon - Crystal Eye Castle - Stonetown - Treetop Terrace
- Falling Forest - Troll Warehouse - Goo Factory - Battlefield - Crawling Catacombs - Cadaverous Crypt -
Creepy Citadel - Molekin Mine - Lava Lakes Railway - Quicksilver Vault - Arkeyan Armory - Lair of Kaos
Console Battle Arenas
Cyclops Square - Mushroom Grove - Aqueduct - Troll Factory


Pirate Grotto -

The Necropolis -

Icicle Isle -

Cube Dungeon -

Volcanic Vault
3DS Realms
Towersight Fields - The Proving Grounds - Flooded Viaducts - Radiant Fountain - Dreamgardens
- Ashburrow - Magma Bank Island - Cinderstream Pass - Luminous Quarry - Lava Flow Grotto - Snowblind Hills -
Frostsedge - Glacial Slopes - Icelight - Aurora Peak - Leaflook Village - Breakmarsh - Daystar Temple - Treetop Circle - Waterwalk Way - Sunblight Wood - Thundersquall - Whipwind Mountains - Stormseye - Galecrack Castle
- Dark Mirror
Adventure Pack Chapters


Pirate Seas -

Darklight Crypt -

Empire of Ice -

Dragon's Peak
Community content is available under
CC-BY-SA
unless otherwise noted.