Fairies are creatures who are frequently seen throughout the original Spyro the Dragon series. They often help out Spyro by saving his progress (most famously Zoe) and performing other various actions.
In Spyro the Dragon, certain Fairies grant Spyro a special superflame when they kiss him.
Abilities
Fairies can grant magical abilities and their wand zaps serve as checkpoints. However they are vulnerable to dark magic, which acts as radioactivity to Fairies.
Original series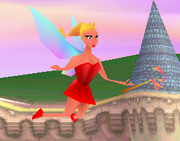 Fairies made their first appearance, helping Spyro by:
Zoe was introduced. Other fairies were seen when they helped her scatter the Orbs around Avalar from Ripto.
In this game, the fairies help Spyro search for the eggs and:
Zoe will save his progress.
The Charmed Ridge fairy community will help you along the way to save Princess Ami from the Cat Wizards.
Princess Ami will give Spyro an egg if he keeps her secret. (Only in the Reignited version, in the original only Liz helps you along the way).
A special ice fairy will temporarily grant Spyro the ability to breathe ice in Frozen Altars.
In this game, the main focus is all on the Fairies and the Fairy Realms. Here, Grendor has frozen all the fairies, and Spyro must unfreeze them.
Each fairy's in-game sprite colours are based off the four seasons (Autumn, Winter, Spring and Summer).
The fairies, including Zoe, appear in the Fairy Library level.
Other fairies make their appearance in A Hero's Tail, including Zoe. After Spyro defeats a boss, they will free a fairy who will grant him an elemental power: Electricity, Water, and Ice.
Trina serves as the tutorial fairy in the game.
Fairies, including Zoe, live in the Tree Tops somewhere in Avalar.
Fairies make an appearance in Skylanders series. They had been friends with the Skylanders, possibly because fairies can turn treasure into upgrade magic that gives the Skylanders new abilities, powers, and also fresh breath.
One notable fairy, Persephone, upgrades your Skylanders' abilities for gold. 
Gallery
Trivia
A Save Fairy might be one of Zoe's friends who removed the Orbs from the Super Portal in Winter Tundra in the Reignited Trilogy.

In the original Ripto's Rage!, Zoe mistakenly appears twice in said sequence. One of the Zoes were likely meant to be this fairy.

There don't appear to be any male fairies, since all the fairies shown so far have been female.
References
↑

Spyro the Dragon - Prima's Official Strategy Guide - page 5
Locations
Hubs
Ruins (Console) - Sanctuary (3DS)
Console Chapters
Shattered Island - Perilous Pastures - Sky Schooner Docks - Stormy Stronghold - Oilspill Island
- Dark Water Cove - Leviathan Lagoon - Crystal Eye Castle - Stonetown - Treetop Terrace
- Falling Forest - Troll Warehouse - Goo Factory - Battlefield - Crawling Catacombs - Cadaverous Crypt -
Creepy Citadel - Molekin Mine - Lava Lakes Railway - Quicksilver Vault - Arkeyan Armory - Lair of Kaos
Console Battle Arenas
Cyclops Square - Mushroom Grove - Aqueduct - Troll Factory


Pirate Grotto -

The Necropolis -

Icicle Isle -

Cube Dungeon -

Volcanic Vault
3DS Realms
Towersight Fields - The Proving Grounds - Flooded Viaducts - Radiant Fountain - Dreamgardens
- Ashburrow - Magma Bank Island - Cinderstream Pass - Luminous Quarry - Lava Flow Grotto - Snowblind Hills -
Frostsedge - Glacial Slopes - Icelight - Aurora Peak - Leaflook Village - Breakmarsh - Daystar Temple - Treetop Circle - Waterwalk Way - Sunblight Wood - Thundersquall - Whipwind Mountains - Stormseye - Galecrack Castle
- Dark Mirror
Adventure Pack Chapters


Pirate Seas -

Darklight Crypt -

Empire of Ice -

Dragon's Peak
Community content is available under
CC-BY-SA
unless otherwise noted.