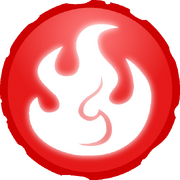 Fire is one of the eight elements in the Skylanders series.
History
Fire is one of the most ancient sources of power in all of Skylands, even Hugo's research suggests that it existed even before written records began. Being the brightest of the elements, Fire plays an important role in helping keep the Darkness at bay. Skylanders powered by the Fire Element, such as Flameslinger and Eruptor, have proven highly effective in defending Skylands from the evil Kaos.[1]
Abilities
Skylanders associated with this element manipulate of fire and lava to burn down and sear their foes. They can travel through lava unharmed, and can use furnaces as a teleporters after opening a Fire elemental gate. They can also light up dark areas in certain levels (such as Darklight Crypt) with their attacks. Their attacks can also defeat the Rotting Robbies (who can only be harmed by fire and cannons). Fire-based Skylanders stand on a pedestal made of flames when they're in their toy form.
Spyro is the only known Skylander of a different element who uses the element of Fire, due to him being a magical purple dragon who is able to harness the power of the elements of Skylands.
The Fire Element is strong against the Air Element, but weak against Water. 
Fire Elemental Characters
Skylanders
Gallery
Trivia
Neither the Fire nor the Life element contain Series 2 Dragons.
This and the Air element currently have no sidekicks.
References
↑

Skylanders Universe - Book of Elements: Fire and Water, page 8 and 9
Locations
Hubs
Ruins (Console) - Sanctuary (3DS)
Console Chapters
Shattered Island - Perilous Pastures - Sky Schooner Docks - Stormy Stronghold - Oilspill Island
- Dark Water Cove - Leviathan Lagoon - Crystal Eye Castle - Stonetown - Treetop Terrace
- Falling Forest - Troll Warehouse - Goo Factory - Battlefield - Crawling Catacombs - Cadaverous Crypt -
Creepy Citadel - Molekin Mine - Lava Lakes Railway - Quicksilver Vault - Arkeyan Armory - Lair of Kaos
Console Battle Arenas
Cyclops Square - Mushroom Grove - Aqueduct - Troll Factory


Pirate Grotto -

The Necropolis -

Icicle Isle -

Cube Dungeon -

Volcanic Vault
3DS Realms
Towersight Fields - The Proving Grounds - Flooded Viaducts - Radiant Fountain - Dreamgardens
- Ashburrow - Magma Bank Island - Cinderstream Pass - Luminous Quarry - Lava Flow Grotto - Snowblind Hills -
Frostsedge - Glacial Slopes - Icelight - Aurora Peak - Leaflook Village - Breakmarsh - Daystar Temple - Treetop Circle - Waterwalk Way - Sunblight Wood - Thundersquall - Whipwind Mountains - Stormseye - Galecrack Castle
- Dark Mirror
Adventure Pack Chapters


Pirate Seas -

Darklight Crypt -

Empire of Ice -

Dragon's Peak