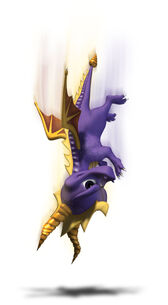 The
Headbash
ability enables
Spyro
to break certain rocks and
special gem containers
. The headbash is achieved by leaping into the air and then pressing the triangle button. Spyro will execute a forward somersault and launch himself downwards, horns first. Spyro can also drop into a Headbash from a glide by hitting triangle twice—first to Hover, then to Headbash.
The Headbash was first introduced in Spyro 2: Ripto's Rage!. To get it at the near end of the game, Spyro needs to pay Moneybags a thousand gems in Winter Tundra.
Horn Smash
In Spyro: Enter the Dragonfly, the Headbash ability is renamed the Horn Smash.
Horn Dive
In Spyro: A Hero's Tail, Spyro gains a move called the Horn Dive by talking to Elder Tomas. The move functions and moves exactly the same as the Headbash ability. Spyro needs to use the move in order to destroy the Dark Gems and break unbreakable steel chests.
Spyro's Earth Pound
In Skylanders, Spyro has the ability to use an Earth Pound. This attack is performed by flying into the air and then crashing down head first.
Series 2 Spyro has a special Wow Pow ability that allows him to perform a powerful Earth Pound while spewing fireballs.
Locations
Hubs
Ruins (Console) - Sanctuary (3DS)
Console Chapters
Shattered Island - Perilous Pastures - Sky Schooner Docks - Stormy Stronghold - Oilspill Island
- Dark Water Cove - Leviathan Lagoon - Crystal Eye Castle - Stonetown - Treetop Terrace
- Falling Forest - Troll Warehouse - Goo Factory - Battlefield - Crawling Catacombs - Cadaverous Crypt -
Creepy Citadel - Molekin Mine - Lava Lakes Railway - Quicksilver Vault - Arkeyan Armory - Lair of Kaos
Console Battle Arenas
Cyclops Square - Mushroom Grove - Aqueduct - Troll Factory


Pirate Grotto -

The Necropolis -

Icicle Isle -

Cube Dungeon -

Volcanic Vault
3DS Realms
Towersight Fields - The Proving Grounds - Flooded Viaducts - Radiant Fountain - Dreamgardens
- Ashburrow - Magma Bank Island - Cinderstream Pass - Luminous Quarry - Lava Flow Grotto - Snowblind Hills -
Frostsedge - Glacial Slopes - Icelight - Aurora Peak - Leaflook Village - Breakmarsh - Daystar Temple - Treetop Circle - Waterwalk Way - Sunblight Wood - Thundersquall - Whipwind Mountains - Stormseye - Galecrack Castle
- Dark Mirror
Adventure Pack Chapters


Pirate Seas -

Darklight Crypt -

Empire of Ice -

Dragon's Peak
Community content is available under
CC-BY-SA
unless otherwise noted.