This Month's Featured Article
This month's featured article is Magic Crafters.
Featured Video
Announcement trailer for the Spyro Reignited Trilogy.
News
June 3, 2022: The fourth draft of The Legend of Spyro 3D movie script was found and released online!
June 9th, 2021: Spyro, Gnasty Gnorc and Dark Spyro will guest-star in a new Season 3 game event "Battle of the Dragons" in the Crash Bandicoot spinoff mobile game, Crash: On The Run.
July 21, 2020: The Art of Spyro: Reignited Trilogy is available now!
February 20, 2020: An artbook on the Spyro Reignited Trilogy is set for release on July 21, 2020!
August 30, 2019: The Spyro & Friends Grand Prix is now available for a limited-time for players of Crash Team Racing Nitro-Fueled! Fans can unlock Spyro, Gnasty Gnorc and Hunter the Cheetah as racers in the game and also race through the Spyro-themed race track, Spyro Circuit.
You Can Help
We have pages ready for your help!
Troll Grenadiers,Beetle Burrows, Grumpy Grasshopper, Cyclone, Byrd Barracks
Nataloids, Balloonists, Flame, Cho-Lei, Thieves Den, Spider Tanks, Disciples, Advisor, Naga, Fire Elementals, Dragon Kata, Eels, Crystal Brutes, Drow
Ice Ogres, Eskimoles, Space Chase, Pillow Ants, Defense Drones, Super Fire Cannons, Two-Legged Thief, Runes
Helping out
To write a new article, just enter the article title in the box below.
Not sure where to start?
Adding content
Talk and more...
Check out the Community Portal to see what the community is working on, to give feedback or just to say hi.
Community

Want to talk with other Spyro fans on the Spyro the Dragon franchise? Be sure to stop by our affliated Spyro fan forums, Magic Crafters, to chat on all things Spyro, including Skylanders and the Spyro Reignited Trilogy.
Quote of the Moment
"Gulp, lunchtime!"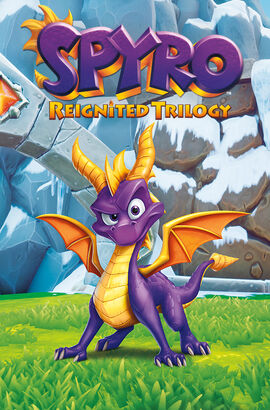 Placeholder cover art for the Spyro Reignited Trilogy.