Metropolis (メトロボポリス; Metrobopolis in Japenese) is a futuristic style realm, which is demonstrated by the design of the city itself, and the robots which are the indigenous people. The enemies featured in this world appear to be based around farm animals, but with an added sci-fi element, such as the sheep in flying saucers, the suicidal pigs strapped to rockets, or the cows in spacesuits with lasers.
Metropolis has four orbs and four hundred gems. Like all worlds within Winter Tundra, it has no talisman. The Professor opens the portal up once you have at least 25 Orbs.
Cutscenes
Opening Scene
A business droid is seen standing at a bus stop, waiting for the bus to come. At first, nothing exciting happens. But then a rocket is shown, and the droid looks at it, to see it is attached to a pig. He looks at the pig and the pig stares back, before they both stand together and wait for the bus to arrive.
Closing Scene
The scene is the same as the beginning. The business droid is at the bus stop, waiting for the bus to arrive. He realizes the bus isn't coming, and looks at his watch to realize he's running late. He walks in the middle of the road, and is suddenly, hit by the oncoming bus. The screen shows nothing except for the empty bus stop, before ending.
Intro and Extro Video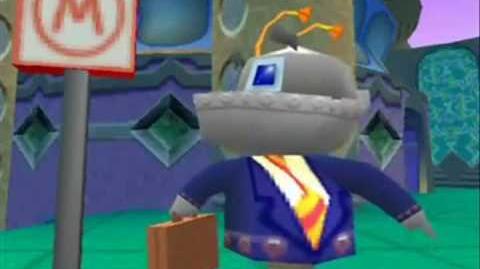 Orbs
Conquer invading cows
Spyro must traverse through the level, killing off the invading cows. To get this orb, talk to the Inventor Droid.
Shoot down sheep saucers I
Spyro must use the double powerup and shoot the three sheep saucers out of the sky. The Inventor Droid will give the player an orb for proof of their skill.
Shoot down sheep saucers II
After defeating the first wave, the sheep send out a distress call and bring in five more sheep saucers. Spyro will then have to shoot them out of the sky also. The Inventor Droid will then give the player an orb to commemorate their victory.
Ox Bombing
The Logistics Droid will tell Spyro that an ox took over their armory and they thought that freezing the walkway would keep animals out. He will then advise the player to use bombs against the ox to defeat it. The ox has a health meter bar, and when Spyro drains its bar, the Logistics Droid will give the player an orb, calling it visually pleasing.
Characters
Allies
Droids

Manager Droid
Maintenence Droid
Enemies
Video
Gallery
Trivia