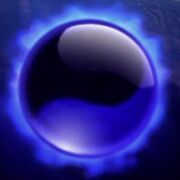 Shadow is an element acquired by Cynder in The Legend of Spyro: Dawn of the Dragon. The shadow ability later reappeared in the second reboot of the Spyro series, Skylanders, as one of Cynder's two Undead abilities.
Symbol
The symbol of Shadow has two different designs, in the console versions, it looks like a dark yin yang symbol of black above teal. However, it looks like a purple hand with a dark purple background in the DS version.
Attacks
Primary Shadow
Shadow Strike: Cynder can unleash her shadow element by diving into her own shadow and strike out from the darkness with shadow empowered claws. Shadow strike can also help Cynder get through purple doors.
Deadly Shadow Strike
Sinister Shadow Strike
Secondary Shadow
Shadow Fire: Cynder can unleash her shadow element by breathing a dark shadow fire to suffocate foes.
Suffocating Shadow Fire
Asphyxiating Shadow Fire
Effects
Both effects of the Shadow Strike and Shadow Fire will leave portions of the shadow magic, coating the enemies eyes, this turns the enemies into Cynder' s personal body guard's for a short while, as they don't attack her if they are next to the her and no other enemies are near. Also, when attacking Malefor with Shadow Fire, the breath ignites the fire which didn't appear when using on normal enemies, as only the black plume shows just the plume and no fire.
In Skylanders, one of Cynder's standard abilities called Shadow Dash involve her turning into a shadow to dash past enemies, leaving behind a trail of ghosts that cause damage. As Series 3 Phantom Cynder, while performing her Shadow Dash attack, Cynder can morph into a giant skull that explodes on release.
Gallery
Trivia
According to lead concept artist Jared Pullen, dragons of the Poison, Shadow and Fear elements exist, but the elements come from a different, darker entity instead of the light entity that created the other elements (Fire, Electricity, Ice, Earth, Water and Wind).[1]
References
Locations
Hubs
Ruins (Console) - Sanctuary (3DS)
Console Chapters
Shattered Island - Perilous Pastures - Sky Schooner Docks - Stormy Stronghold - Oilspill Island
- Dark Water Cove - Leviathan Lagoon - Crystal Eye Castle - Stonetown - Treetop Terrace
- Falling Forest - Troll Warehouse - Goo Factory - Battlefield - Crawling Catacombs - Cadaverous Crypt -
Creepy Citadel - Molekin Mine - Lava Lakes Railway - Quicksilver Vault - Arkeyan Armory - Lair of Kaos
Console Battle Arenas
Cyclops Square - Mushroom Grove - Aqueduct - Troll Factory


Pirate Grotto -

The Necropolis -

Icicle Isle -

Cube Dungeon -

Volcanic Vault
3DS Realms
Towersight Fields - The Proving Grounds - Flooded Viaducts - Radiant Fountain - Dreamgardens
- Ashburrow - Magma Bank Island - Cinderstream Pass - Luminous Quarry - Lava Flow Grotto - Snowblind Hills -
Frostsedge - Glacial Slopes - Icelight - Aurora Peak - Leaflook Village - Breakmarsh - Daystar Temple - Treetop Circle - Waterwalk Way - Sunblight Wood - Thundersquall - Whipwind Mountains - Stormseye - Galecrack Castle
- Dark Mirror
Adventure Pack Chapters


Pirate Seas -

Darklight Crypt -

Empire of Ice -

Dragon's Peak
Community content is available under
CC-BY-SA
unless otherwise noted.