The Statistics (or stats) define the overall strength of a Skylander in various areas in Skylanders: Spyro's Adventure. Which stats are used varies per game. The console versions uses a set of stats similar to those found in many RPG games. The 3DS version uses the Skylander's level to determine the height of all other stats, as well as which abilities are available. 
The Power Stats mentioned on the official website and figure cards are not used in any of the games.
In the console version of Skylanders, gaining levels only increases health. To increase the other stats, Skylanders will have to complete Heroic Challenges given by Cali. They can complete these on any console, regardless of ownership.
Level: Affects how much health a Skylander has. The maximum level is 10 in Spyro's Adventure, 15 in Giants and 20 in Swap Force.
Health: How much damage a Skylander can take before it can no longer fight and has to rest.
Speed: How quickly a Skylander moves.
Armor: Affects the chance that no health is lost when a Skylander is hit. The chance of blocking an attack is increased by +1% for every 3 points. When an attack is blocked, instead of a damage number, a will appear on the target. Several Skylanders have an armor upgrade that gives 40+ Armor and changes appearance.
Critical Hit: Determines the chance of an attack dealing 50% more damage than it normally would. An increase of 5 points increases the chance of a critical hit by +1%. If a hit is critical, a ! will appear on the target.
Elemental Power: Each point of Elemental Power increases the bonus damage Skylanders get by +1% while they're in their own Elemental Zone, or while duelling a Skylander of an element they're strong against. Skylanders also get a +7 bonus to their Elemental Power for each other unlocked Skylander of the same element.

All Skylanders start at 25 Elemental Power. With all bonusses, the maximum EP they can get is 100 (125 with the Wizard Hat).

Heroics: How many Heroic Challenges a Skylander has completed.
Hero Level: The level a Skylander has in the webgame. This stat isn't used in the console game.
Level: Affects the strength of a Skylander, as well as which abilities they have. All other stats are increased as the level increases. The maximum level is 10, or 15.
Health Boosts: Affects how much health a Skylander has.
Damage Boosts: Affects how much damage a Skylander deals with attacks.
Upgrades: Shows how many abilities are unlocked.
Hero Level: The level a Skylander has in the webgame. This stat isn't used in the 3DS game.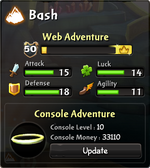 The level of the Skylanders in Skylanders: Universe is called "Heroic Level" and is tracked seperately from those gained on the console/3DS.
Level: In the webgame, the stats are raised based on the webgame level. Break objects or eat plants to increase it. The maximum level is 50.
Attack: Strength of weapons such as the Sky Defense cannon or the Castle Assault catapult.
Agility: How swiftly a Skylander can attack, such as how quickly they can shoot the Sky Defense Cannon.
Defense: How much damage is absorbed by body and armor.
Luck: How quickly can be recovered from stun attacks. Is also used in other non-skill based aspects of the game, such as the how often a Skylander will have a lucky hit in Castle Assault.
Console Level: The level a Skylander has in the console and 3DS game. This stat isn't used in the webgame.
Console Money: How much money a Skylander has in the console and 3DS game. This money cannot be used in the webgame.
Trivia
The percentages for the console values have been obtained by sampling a great many attacks in PvP. On average, Critical Hit and Armor came close to 5 and 3 points per 1% chance. These values correspond with those given for completing Heroic Challenges, which would mean that completing one would give the Skylander a 1% bonus chance per challenge. Speed has not been tested as it cannot be easily measured. For more information, see Talk Page.
You have to keep ownership of the Skylander on the version that has all Skylanders owned to keep the 100 Elemental Power or else the Skylanders Elemental Power goes back down to 79 until Ownership is taken.
If you complete all 50 Heroics Challange you'll get a small stats boost in Skylanders: Swap Force (Speed: +3, Armor: +5, Crit: + 3%, Elemental Power: +6)
Locations
Hubs
Ruins (Console) - Sanctuary (3DS)
Console Chapters
Shattered Island - Perilous Pastures - Sky Schooner Docks - Stormy Stronghold - Oilspill Island
- Dark Water Cove - Leviathan Lagoon - Crystal Eye Castle - Stonetown - Treetop Terrace
- Falling Forest - Troll Warehouse - Goo Factory - Battlefield - Crawling Catacombs - Cadaverous Crypt -
Creepy Citadel - Molekin Mine - Lava Lakes Railway - Quicksilver Vault - Arkeyan Armory - Lair of Kaos
Console Battle Arenas
Cyclops Square - Mushroom Grove - Aqueduct - Troll Factory


Pirate Grotto -

The Necropolis -

Icicle Isle -

Cube Dungeon -

Volcanic Vault
3DS Realms
Towersight Fields - The Proving Grounds - Flooded Viaducts - Radiant Fountain - Dreamgardens
- Ashburrow - Magma Bank Island - Cinderstream Pass - Luminous Quarry - Lava Flow Grotto - Snowblind Hills -
Frostsedge - Glacial Slopes - Icelight - Aurora Peak - Leaflook Village - Breakmarsh - Daystar Temple - Treetop Circle - Waterwalk Way - Sunblight Wood - Thundersquall - Whipwind Mountains - Stormseye - Galecrack Castle
- Dark Mirror
Adventure Pack Chapters


Pirate Seas -

Darklight Crypt -

Empire of Ice -

Dragon's Peak
Community content is available under
CC-BY-SA
unless otherwise noted.