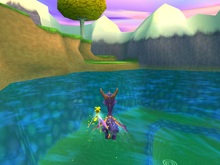 Swimming is an ability Spyro has from the beginning of Spyro 2: Ripto's Rage!. Swimming underwater enables Spyro to travel to new areas, recover gems and battle enemies. Entire levels are even set underwater.
Once Spyro learns to swim fromMoneybags, the square button may be pressed to dive from the surface. (There is no time limit on underwater swimming, since Spyro is apparently amphibious and has no need to return to the surface to breathe, and Sparx is encased in a bubble.) Underwater, the 'x' button causes Spyro to paddle in any direction the player chooses, while pressing the square button causes him to charge. Pressing the circle button, which usually corresponds to the flame attack, causes Spyro to emit nothing but a stream of bubbles unless he is currently powered-up with Superflame.
In Skylanders: Spyro's Adventure and Skylanders: Giants, Water Skylanders are able to swim in water and go to areas that are inaccessible to the other Skylanders.
If a Skylander has the ability to fly however they too can get to these areas by flying just above the surface of the water. Stump Smash can also purchase the ability to float across water if the player gets his Soul Gem for his Waterlogged upgrade from Persephone. The same goes for Double Trouble when he receives his Soul Gem, Waterwalker.
Locations
Hubs
Ruins (Console) - Sanctuary (3DS)
Console Chapters
Shattered Island - Perilous Pastures - Sky Schooner Docks - Stormy Stronghold - Oilspill Island
- Dark Water Cove - Leviathan Lagoon - Crystal Eye Castle - Stonetown - Treetop Terrace
- Falling Forest - Troll Warehouse - Goo Factory - Battlefield - Crawling Catacombs - Cadaverous Crypt -
Creepy Citadel - Molekin Mine - Lava Lakes Railway - Quicksilver Vault - Arkeyan Armory - Lair of Kaos
Console Battle Arenas
Cyclops Square - Mushroom Grove - Aqueduct - Troll Factory


Pirate Grotto -

The Necropolis -

Icicle Isle -

Cube Dungeon -

Volcanic Vault
3DS Realms
Towersight Fields - The Proving Grounds - Flooded Viaducts - Radiant Fountain - Dreamgardens
- Ashburrow - Magma Bank Island - Cinderstream Pass - Luminous Quarry - Lava Flow Grotto - Snowblind Hills -
Frostsedge - Glacial Slopes - Icelight - Aurora Peak - Leaflook Village - Breakmarsh - Daystar Temple - Treetop Circle - Waterwalk Way - Sunblight Wood - Thundersquall - Whipwind Mountains - Stormseye - Galecrack Castle
- Dark Mirror
Adventure Pack Chapters


Pirate Seas -

Darklight Crypt -

Empire of Ice -

Dragon's Peak