Use this page to discuss design and content changes to the Main Page. For general wiki discussion, please visit the Community Portal.
---
Hullo! I'm Kirkburn, a Wikia Gaming Helper, and I just added the Wikia Gaming footer to your Main Page. We are adding these to encourage cross linking and a better sense of community between wikis. Feel free to mess around with the links. Thanks! Kirkburn (talk) 18:11, 20 March 2008 (UTC)
Wikia Gaming IRC channel
Hullo! I am Kirkburn, your friendly local Wikia Gaming Helper!
You may be interested to know there is a Wikia gaming IRC channel, #wikia-gaming on chat.freenode.net, where you can hop on, ask for help from users of other gaming wikis, or offer your own experiences. If you are not familiar with IRC clients, you can access it from http://irc.wikia.com/gaming.
Different people may be on sporadically, but we organize weekly chats at a fixed time so we can get the most number of people online at the same time to ask and answer questions, or just to hang out. The admins of some of Wikia's biggest gaming wikis (e.g. WoW, Halo) often attend them. You can find the time for the next chat by following this link.
If you have any questions, don't hesitate to ask me! Kirkburn (talk) 11:08, 10 April 2008 (UTC)
Friends
Since same developers made it originally, and it would really benefit us, we should SERIOUSLY consider being friends with the Ratchet & Clank wiki, come on!! --Technobliterator 10:36, 11 July 2009 (UTC) Plus the Bandipedia, the games are MASSIVELY related
need help in editing spyor wiki --king of the world 07:11, September 16, 2009 (UTC)
Favicon
There's no favicon on this wiki. Is there a reasoning behind this? It really brings a wiki down if there's no favicon.--Benxander 18:52, January 30, 2010 (UTC)
Sidebar links
Why are links to Spyro (The Legend of Spyro) and Hunter the Cheetah in the sidebar? Dr. 8-Bit 21:05, February 7, 2010 (UTC)
Spyro wiki home page
maybe next time when someone tries to radically redesign the homepage, maybe they could test it in the forum or talk-page before transforming the homepage, it looks disorganized and there's bad spelling Sclera1 12:33, April 13, 2010 (UTC)
no offense, but i don't think i like the new page, could someone either revert to a previous version or improve upon this one, it looks a bit inconsistant and some of the pages are not really needed Sclera1 00:44, April 19, 2010 (UTC)
Small Suggestion.
Hey, may I suggest somehow incorporating a list of all the Spyro games onto the main page here? For ease-of-access. Most gaming Wikia have some form of list or a link to a list of the games in-series on their front pages. :3 ~Takoto 16:39, June 17, 2011 (UTC)
It's been added. -- Aura24 17:23, June 17, 2011 (UTC)
On September 2011, Universal Studios and Activison annnounced that they are making a re-release on PS3 for Blu-ray Disc and it will be released in January 3, 2012.
Please don't spread false lies. Your unconfirmed edits has been deleted. -_- -- Aura24 03:23, October 22, 2011 (UTC)
Possible Flashwing image
There is a soul gem shown on Shroomboom's trailer and it looks like a white dragon. Do you suppose this could be Flashwing?
Yes, you can tell by the crystal on the head, and on the back of head.
Spyro Fan Wiki?
Can someone make a Spyro Fan Wiki? BRRSpore (talk) 16:30, February 13, 2013 (UTC)
Seperation of Spyro and Skylander series
so, far this wiki seems to be a bit messy and looks more like an incomplete puzzle. But i do understand the reasoning behind this. On the bright side, i suppose it would make it easier to organize and complete the articles based on the older spyro games, including the small articles Sclera1 (talk) 02:40, October 12, 2013 (UTC)
Spyro Remake In 2018?
2018 marks the 20th anniversary of the Spyro series (first release on the Sony PlayStation in 1998) and the series has no small amount of fans, so it calls to reason that SOMETHING significant will happen within that year. Remake? Reboot? TLoS sequel? (oh God, please!). What seems the most plausable if any? Perhaps they will do what they did with Ratchet & Clank PS4 and remake the original with modern graphics and a reworked story plus new locations?
Can't say that's out of the line of possibility. -Operationgamer17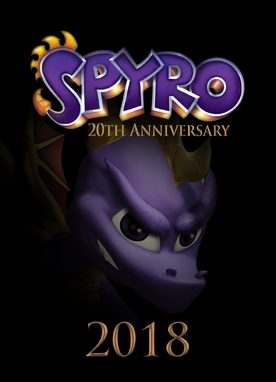 Fingers crossed!!! - 
Wynber
Hey everybody