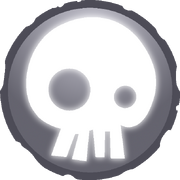 Undead is an elemental class introduced in the Skylanders series.
History
Many creatures, including the Skylanders, have been changed forever as a result of visiting the Underworld. Some have found their very souls twisted beyond recognition. Others, such as Cynder, simply like hanging out in graveyards. But all have it within themselves to use their Undead abilities for good. The Undead Element inhabits the darkest corners of the Skylands, lurking in the shadows, ready to pounce - and then serve up a lovely snack or tell a terrible joke.[1]
Despite its dark origins, the Undead Element is a vital part of the Core of Light. It combines with the other Elements in some unusual, and unexpected, ways.[2]
Malefor is the self-crowned Undead Dragon King of the underworld. He was responsible for corrupting Cynder into doing his evil bidding and also attempted to capture the elven sorceress Skylander, Hex, only to be confronted and defeated by her.
Abilities
The Skylanders who are associated with the Undead element are mostly skeletal, ghouls, or creatures who have been corrupted by the element. They use the power of the undead and darkness to aid them in battle. When forming a bridge to access their Elemental Gates, Undead Skylanders create a bridge that are formed from the bones of their fallen enemies.[3]
Undead-based Skylanders also stand on a pedestal that resembles a white skull when they're in their toy form. Also, the white skull on the pedestal is known to glow in the dark.
Weaknesses
While the Undead Element is strong against the Life Element, it is at the mercy of Magic. Spells and sorcery really take their toll, and Undead Elementals should beware the wrath of wizards.[2]
Undead Elemental Characters
Skylanders
Non Playable Characters
Gallery
Trivia
The Undead, the Magic and the Air element are currently the only elements with more than one female Skylander.

However, the Undead has the most female Skylanders of all elements.

The Undead has more Legendary Skylanders than any other element.
This is the only element to contain more than one elven Skylander.
The non-playable Undead Dragon, Vathek, was going to originally be the Undead dragon Skylander of Spyro's Adventure, but the role was then taken by Cynder.
References
Locations
Hubs
Ruins (Console) - Sanctuary (3DS)
Console Chapters
Shattered Island - Perilous Pastures - Sky Schooner Docks - Stormy Stronghold - Oilspill Island
- Dark Water Cove - Leviathan Lagoon - Crystal Eye Castle - Stonetown - Treetop Terrace
- Falling Forest - Troll Warehouse - Goo Factory - Battlefield - Crawling Catacombs - Cadaverous Crypt -
Creepy Citadel - Molekin Mine - Lava Lakes Railway - Quicksilver Vault - Arkeyan Armory - Lair of Kaos
Console Battle Arenas
Cyclops Square - Mushroom Grove - Aqueduct - Troll Factory


Pirate Grotto -

The Necropolis -

Icicle Isle -

Cube Dungeon -

Volcanic Vault
3DS Realms
Towersight Fields - The Proving Grounds - Flooded Viaducts - Radiant Fountain - Dreamgardens
- Ashburrow - Magma Bank Island - Cinderstream Pass - Luminous Quarry - Lava Flow Grotto - Snowblind Hills -
Frostsedge - Glacial Slopes - Icelight - Aurora Peak - Leaflook Village - Breakmarsh - Daystar Temple - Treetop Circle - Waterwalk Way - Sunblight Wood - Thundersquall - Whipwind Mountains - Stormseye - Galecrack Castle
- Dark Mirror
Adventure Pack Chapters


Pirate Seas -

Darklight Crypt -

Empire of Ice -

Dragon's Peak