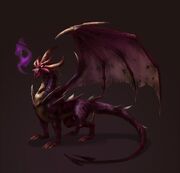 I am DrNefarious and I love the Ratchet & Clank and The Legend of Spyro series.
My opinion of Skylanders is that it is okay because it has new versions of old characters like Spyro, Cynder, Flame, Moneybags and Malefor, but I do not think they should have re-rebooted the series.
My only classic game is A Hero's Tail.
Because of Cynder (Skylanders) backstory, I believe that the timeleine splits after A New Beginning.
A New Beginning - Skylanders
A New Beginning - The Eternal Night - Dawn of the Dragon
A New Beginning - Skylander: Spyro's Adventure
The Reason is because after Cynder freed Malefor's essence from Convexity, there were no apes to release him from the Well of Souls since they do not exist in the Skylands. So he became the Undead Dragon King.
My favorite pages
Community content is available under
CC-BY-SA
unless otherwise noted.