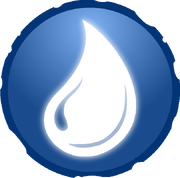 Water is one of the eight elements in the Skylanders series.
History
Water is present in all living things. Without it, few of the Elements would ever have come to exist. Water takes on many forms - a calm lake, a torrential rainfall, a furious typhoon - and Water Elementals come in just as wide a range of shapes and sizes. Vast areas of Skylands are covered in Water, and beneath the surface lie a whole host of undersea kingdoms. There are creatures living down there who haven't even found out that dry land exists, never mind set foot on it. From heroic protectos like the Gillmen to the monstrous fish like the Leviathan, Water supports and teems with all manners of life.[1]
Abilities
Skylanders associated with this element use water and ice to defeat their enemies and have the ability to swim. They are strong against Fire, but are weak against Life characters in the Battle Arena. The color of this element is blue.
Water Skylanders use whirlpools as teleporters after opening a Water Gate. They also stand on a pedestal of water when they're in their toy form.
Weaknesses
The Life element is strongest against Water. The grass, flowers, and plants that are part of Life suck Water through their roots to give them strength. Which is great for them, but not too handy for Water.[2]
Water Elemental Characters
Skylanders
Sidekicks
Gallery
Trivia
This element and Tech are the only elements to have two Legendary Skylanders. However, Water is the first element to have two Legendaries appear at the same time (in the Skylanders: Giants era).
This and the Life element contain two sidekicks.
Water-based Skylanders are one of the three elemental characters who do not build a bridge when opening their elemental gates, the others being Air and Fire. Instead, they are pulled through a swirling whirlpool of water in Spyro's Adventure.
Despite being of this element, Slam Bam appear to be more Ice-based than Water-based. This may be because ice is also seen/known as frozen water.
References
Locations
Hubs
Ruins (Console) - Sanctuary (3DS)
Console Chapters
Shattered Island - Perilous Pastures - Sky Schooner Docks - Stormy Stronghold - Oilspill Island
- Dark Water Cove - Leviathan Lagoon - Crystal Eye Castle - Stonetown - Treetop Terrace
- Falling Forest - Troll Warehouse - Goo Factory - Battlefield - Crawling Catacombs - Cadaverous Crypt -
Creepy Citadel - Molekin Mine - Lava Lakes Railway - Quicksilver Vault - Arkeyan Armory - Lair of Kaos
Console Battle Arenas
Cyclops Square - Mushroom Grove - Aqueduct - Troll Factory


Pirate Grotto -

The Necropolis -

Icicle Isle -

Cube Dungeon -

Volcanic Vault
3DS Realms
Towersight Fields - The Proving Grounds - Flooded Viaducts - Radiant Fountain - Dreamgardens
- Ashburrow - Magma Bank Island - Cinderstream Pass - Luminous Quarry - Lava Flow Grotto - Snowblind Hills -
Frostsedge - Glacial Slopes - Icelight - Aurora Peak - Leaflook Village - Breakmarsh - Daystar Temple - Treetop Circle - Waterwalk Way - Sunblight Wood - Thundersquall - Whipwind Mountains - Stormseye - Galecrack Castle
- Dark Mirror
Adventure Pack Chapters


Pirate Seas -

Darklight Crypt -

Empire of Ice -

Dragon's Peak
Community content is available under
CC-BY-SA
unless otherwise noted.